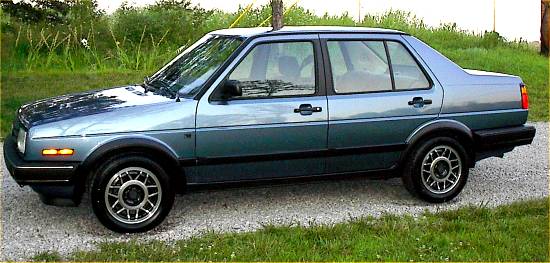 The first Mr Gavushmobile was a 1984 Volkswagen Rabbit Convertible. It was purchased in December 1998 from a salvage yard and in a period of two years, it received it a general restoration into the custom daily driver. For more information about Nick's Rabbit, see his Cabriolet page.
In the summer of 2002 The rabbit pushed over 204,000 miles and was sold it to purchase a 1968 Beetle and see what it was like to drive an air-cooled vw every day. To learn more about the beetle, see Nick's 1968 Beetle Page.
June 2003 Nick sold the beetle after driving it for 12k miles and is now driving what a 1989 Jetta GL with 190k+ miles on it. It is likely the nicest example of a stock Jetta in the area. Go to Nick's Jetta Page to read more about it.

The fist Mrs. Gavushmobile was a 1999 Volkswagen Jetta GL. It was a 2.0l automatic was purchased from Carmax in September 2001. It had 58,000 miles on it when we bought it. On it's 2 year anniversary it was rear ended by an S-10 blazer and was declared a total loss with 110k miles on it.
The current Mrs. Gavushmobile is a 1990 B3 Passat Wagon that was purchased on October 2003. It is a 2.0L 16v 4spd automatic with 148k miles on it. We are very impressed with how it drives, and hope it provides us with many years of service. (Even though Kellie is upset with it because the heater core failed on the first day we owned it, and Nick is annoyed for having to spend 8 hours the next day replacing it) Click Here for an interior photo, and Here for an engine photo.

---