---

It all began when I bought a set of carbs, pistons and cylinders, exhaust and camshaft from my friend... I had a collection of stuff to put together a pretty nice engine to go along with the webers and 88mm machine-in cima forged pistons and cylinders, but it turned out dude's "complete, but down to longblock engine" wasn't complete, and had a spun rod bearing, so I ended up having to rebuild the engine with what I had to build the performance engine and ended up selling the other stuff I had (c/w crank, oil breather kit, etc) on ebay to pony up some bill money. So... after all that, here is what I ended up with:
1600cc dual port engine
new rod bearings
new main bearings
new cam bearings
new piston rings
honed the cylinders
new pushrod tubes
new camshaft followers
scat c35 camshaft
cb performance swivel adjusters
bosch 009 dizzy
facet fuel pump
Holley Bugspray carb, 200cfm.
extractor exhaust w/ resonator
degree crank pulley
chrome 36hp shroud w/ doghouse
chrome cylinder tin
chrome breather vent filter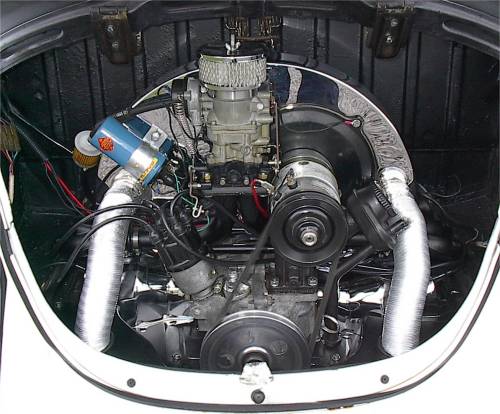 I guess it goes allright, it's pretty zippy for a 1600. it has no problem going 80, I'm pretty sure it would go until it blew up (but I wouldn't like to clean up that mess) so I just cruise at 70, 75 or trying to pass someone going 68. The air cleaner is a paper element and gauze wrap for some sort of small equippment, the first one (shown in pic) was nasty in about 3,000 miles. The new one is a little bigger, I guess it's allright. The top of it rubs slightly on the rear lid, to go bigger it would need some sort of an adapter for a rectangle on top. I still have the dual 40mm weber dcnf-14 carbs and 88mm jugs if I want to build something later... I think I would like to build a glass buggy someday, maybe with an 1835 or something.