Okay... I admit it - I have a Volkswagen problem. But its not my fault - really. I grew up in a vw family, and I can't seem to get out of the habit. I can cout about 28 different vw's that we (my immediate family) have had since I was in middle school including 2 or 3 parts cars. Between my Father, Brother and I we currently have 10. This is my list from the most recent to the very first.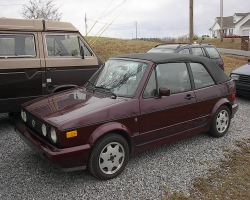 Click here for more info
1992 Cabriolet Wolfsburg Edition (January 2006 - present) We really did miss the convertible after having sold it. The scirocco was neat, but it wasn't as fun as a drop top when the weather was perfect. I had a friend in Atlanta GA who had an extra cabriolet and thought it would be nice to have a scirocco, and I had an extra scirocco and thought it would be nice to have a cabriolet, so we traded.

Click here for more info
1984 Vanagon Westfalia Wolfsburg Edition (September 2005 - present) I needed something bigger to haul around radio control airplanes. Kellie didn't like not having her car on Sunday afternoons and I could only fit 2 planes in my Jetta. At first I was looking for a Rabbit pickup, but I remembered my neighbor's friend had this for sale. Soo.. we can go camping as well. It's a neat vehicle and has great karma, we're really looking forward to getting it on the road this summer. (it has some issues but it shouldn't be too long before it's sorted out.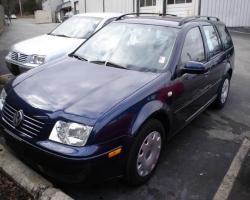 2002 Jetta GLS wagon (March 2005 - present) We were finally able to pay off the Jetta we no-longer had, and the Passat was on a further downward spiral, so it was time to get kellie another vehicle. It's pretty nice; our major gripe is that the rear seat space is really tight for 3 baby seats, and you can't fit an EZ up in the trunk w/ the back seats up.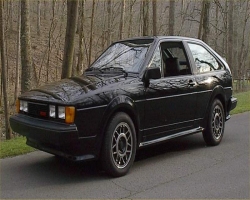 Click here for more info
1987 Scirocco 16v (October 2004 - January 1006) Originally purchased to use for building a 16v rabbit, the scirocco turned out to be too nice to gut. After several months of work and many coats of wax, I was able to round up a couple of trophys during the 2005 season and had a great time w/ the car. I wasn't a fan of sciroccos, but its sleek sexy lines made an impression on me. Later traded for a Cabriolet citing that if I can only have one show/toy car, it is going to be a convertible.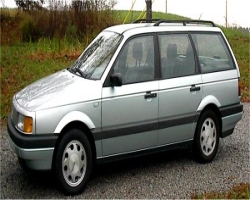 1990 Passat GL wagon (October 2003 - March 2005) Kellie's get-by vehicle while we sorted out the mess with her wrecked jetta... It had a rich running problem I was never able to sort out, but I was able to get it to drive well enough to be somewhat reliable. Kellie wasn't too fond of it however, as it had stranded her 4 times. (heater core, fouled plugs, tire blow-out, and ignition switch) Traded in on the '02 when the tranny started to slip (worse).

Click here for more info
1989 Jetta GL (June 2003 - present) My Jetta.. bought from a co-worker to replace the beetle, it makes a fairly reliable vehicle to drive back and forth to work. It's comfortable and drives nicely; plus it gets good gas mileage. I got it at 168k miles and it's a bit past 230k now.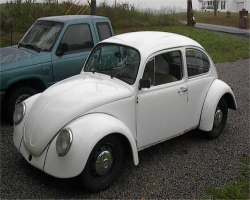 Click here for mroe info
1968 Beetle (July 2002 - June 2003) I just had to have another bug... It was fun, but kinda sour at the same time. I bought it over the internet and the bodywork wasn't as nice as dude made it out to be. I built up an engine for it and drove it aboug 20k miles. I was driving about 100 miles a day between two jobs and it wasn't really good for that. minimal interior (seats, dash) no radio, poor heat even when plumbed directly into my coat sleeve... the cool factor was pretty high though.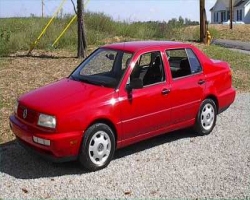 1999 Jetta GL (September 2001 - September 2003) Kellie's first VW. She loved it to pieces... (literally) We had driven the car for 60k fairly trouble-free miles when we were rear-ended up in NY and the car was totalled. We also learned what gap coverage was, and that we didn't have it. That sucked.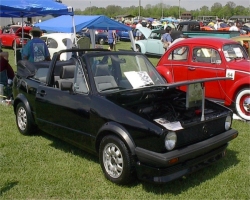 Click here for more info
1984 Rabbit Convertible (December 1998 - April 2002) I bought this car from the junkyard for $200, and in 3.5 years I spent about $3500 on it and drove it about 30k miles. It was a great learning experience, and I enjoyed the car immensely. I decided to sell it to get another aircooled vw; and I wanted to part company while we were still friends; rather than have have a lawn ornament I hated.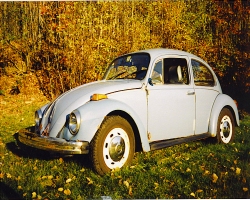 1974 Beetle (April 1996 - sometime 2000) I really wanted a vw bug... I thought they were really neat.. not just in style, but how they were built - the engineering. I had memorized John Muir's book "How to keep your Volkswagen alive forever" and after several months of looking around for one I could afford, I found this one. I probably could have patched it up and drove it for a year, but as obsessive as I was I totally disassembled the car with the intent to restore it. The bodywork was a bit more involved than I was ready for though, and it sat around when I got the rabbit (since I could work with that) Later sold in a basket while I was away in college.

---