A little thump in the trunk.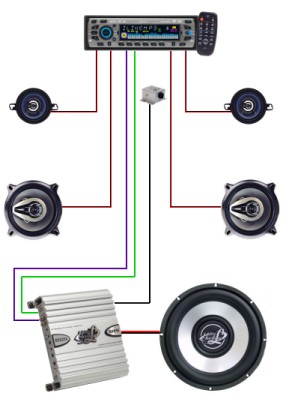 Head Unit:
Lanzar
VBD1100MP
Dash Speakers:
Blaupunkt
TSx-352
3.25"
Deck Speakers:
Pyramid
5577
5"
Subwoofer Amp:
Lanzar
HTG224
Subwoofer:
Lanzar
HRW104
10"
I started to miss the two 12" Kicker Competition VR subs I had in the back of my rabbit convertible and I wanted to add a little bass to my Jetta without spending too much money, damaging my hearing, annoying the neighbors or getting sound violation tickets. I decided to Get a head unit that could play MP3 files on CDs and that would look nice in the dash of my car. (no tacky stuff allowed) after surfing teptronics.com for a while I picked out a head unit, amp and 10" sub for the car.
I then spent crazy ammounts of time (like 10 hours) to build a sub box to the mfg. recommended .85 cu. ft. that had the same angle to the front of it as the rear of the back seat to take up as little space as possible in the trunk. I mounted the amp to the rear seat back as well. I mounted a board to the seat back, covered the whole deal with ozite carpet, mounted the amp and then mounted a flush fitting amp cover that cleaned up the appearance of the install.
Overall, the system is much louder than the stock unit but it isn't crystal clear. The sub works really well and though it's no thump monster. I'm an "adult" now and the music is for me, not everyone within 2 blocks. (or 2 miles, like with the rabbit....) I had to replace the $9 dash speakers with some nice Blaupunkts because the cheep ones died in about 8 months. I also installed some 600hz bass blockers which helped them to produce a cleaner sound, but now I'm lacking a bit of midrange up front.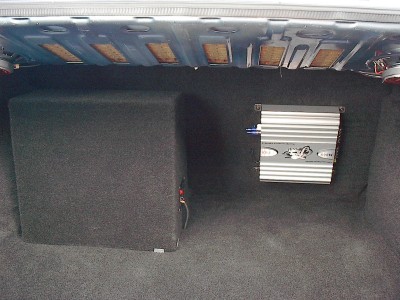 amp and sub installed in trunk.