---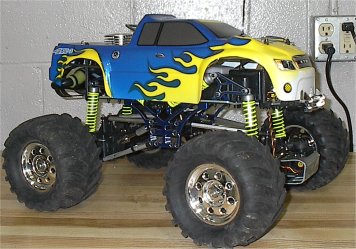 I had electric r/c cars for many years when I was younger, and I sold most of them to help fund my venture into r/c airplanes. In 2001 I saw a Traxxas T-maxx at a r/c car track and I was pretty impressed with it. I loved my clodbuster, but it was a bit slow, and I'm not too keen on batteries and motors. I tried to put together enough funding to get a T-maxx for christmas in 2002 but some plans fell through and I got some much needed equippment for my r/c airplanes instead (and a lego mindstorms set) December 2003 I came into some extra money that could fund such an expensive toy and I spent about a week heavily researching which truck I should get.
I decided to get an XTM X-factor, which has a 4 link suspension with cantilever shock action like my clodbuster, but is powered by a .247 engine fitted to a 2 speed transmission with reverse. I chose the X-factor because I like the suspension setup. Though it isn't good for soaking up bumps and jumps at high speed, it is ideal for driving over stuff (aka crawling) which is what I wanted an r/c monster for anyway. I found the X-factor forum on Global's website. Global the company that produces XTM products. I found that there were many others who had the truck and enjoyed it, and their customer support was excellent. The forum was hosted by the company to supply customer support to owners of their products. (Try to name another company that does that!)
I found someone who posted an X-factor for sale on the forum and it had several upgrades I would have liked to get for mine, but wouldn't have had the money for. It was priced $24 less than a new truck, and he shipped it for free next-day air. Though the truck was used a bit more than he said and it was missing the body and front bumper, I'm still pleased with the overall outcome of the deal. A huge thanks goes to the manufacturer for sending me replacement ring gears and pinions for the differentials because the ones in the truck were damaged due to improper gear preloading found in earlier versions of the truck. This was corrected by adding shims to the pinion gear and differential assembly included in an upgrade kit they sent me that also contains beefier link rod ends.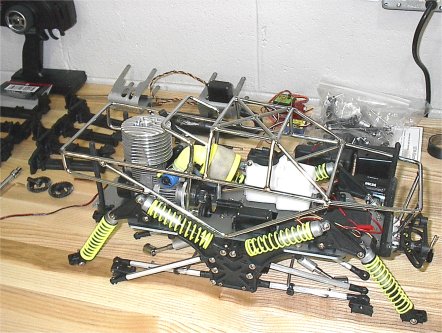 after purchase tear-down and inspection

Modifications the previous owner installed:

XTM shocks to replace the cantilever links.
XTM tuned pipe for .247 engine.
XTM polished clyinder head.
Hard Bodyz chromed roll cage.

Modifications I have made:

Installed steernig servo inside of mount to help protect it.
Installed guards to protect muffler and tail pipe.
XTM Failsafe
XTM machined aluminum gearbox mounts.
XTM machiend aluminum cantilevers.
XTM machined aluminum cantilever mounts.
Traxxas 3 channel radio system.
Useful X-factor links:
Global Hobby X-factor Forum
The best resource for X-factor owners


Distributor of Global Poducts
---